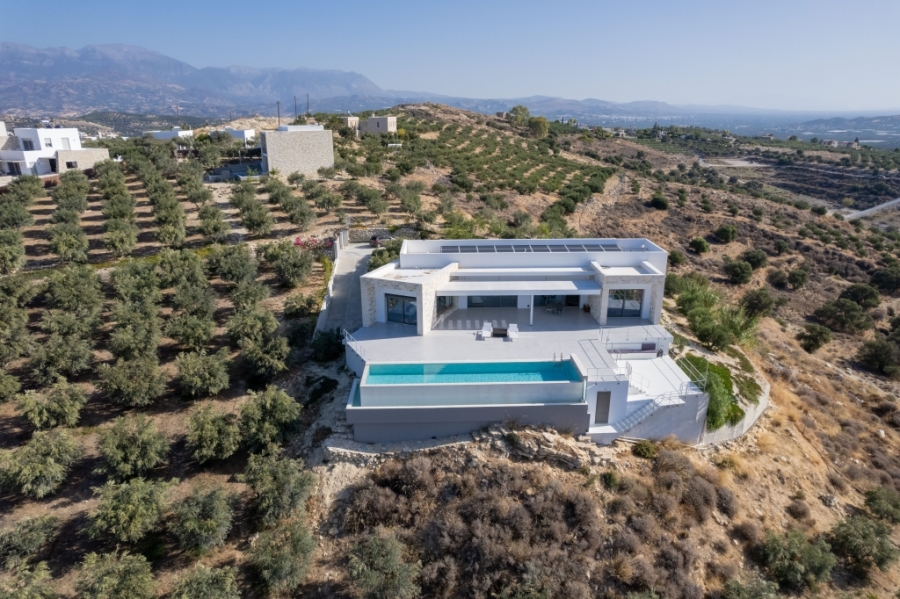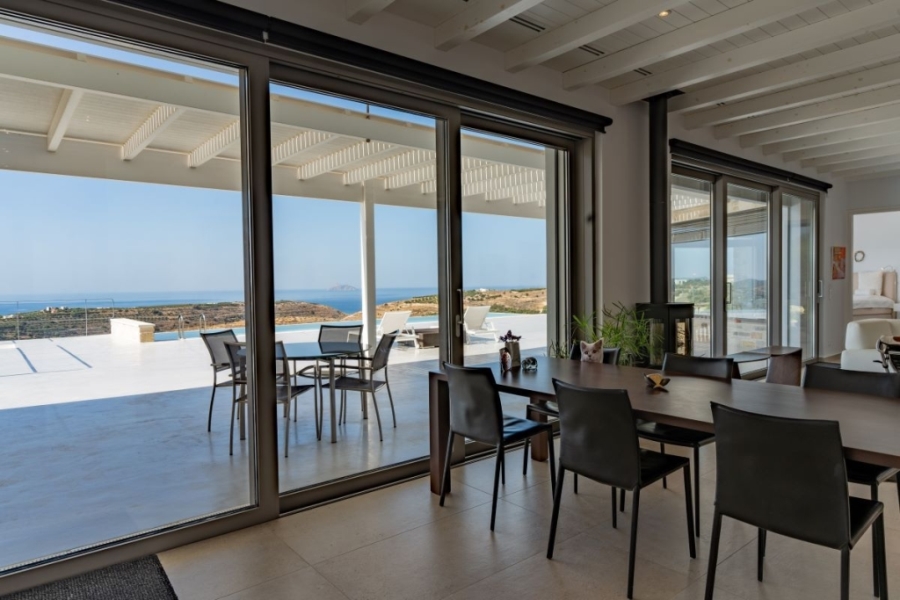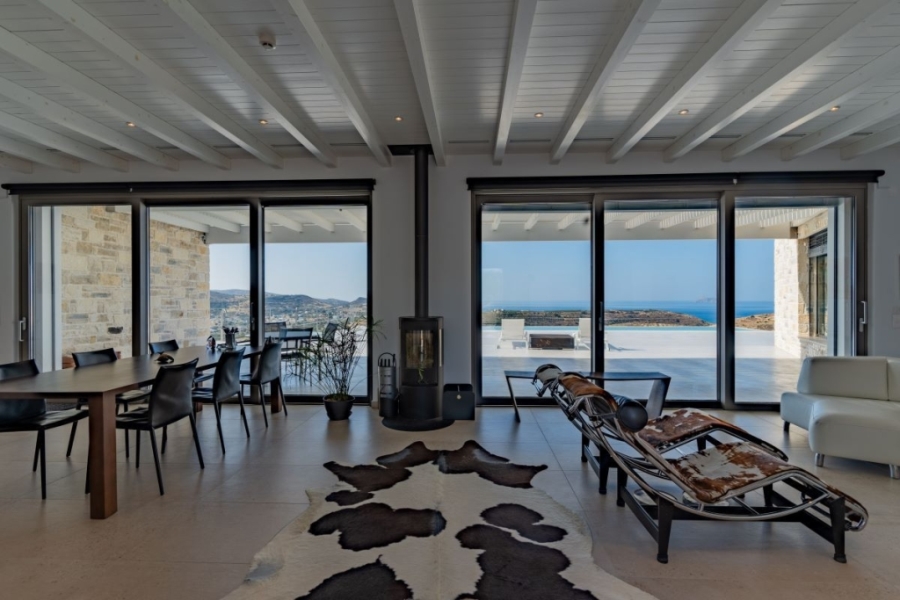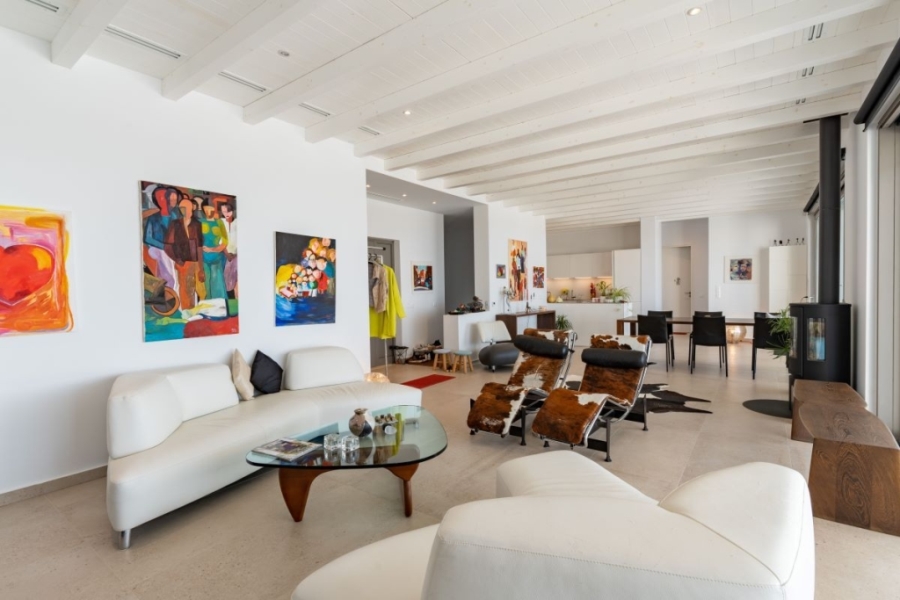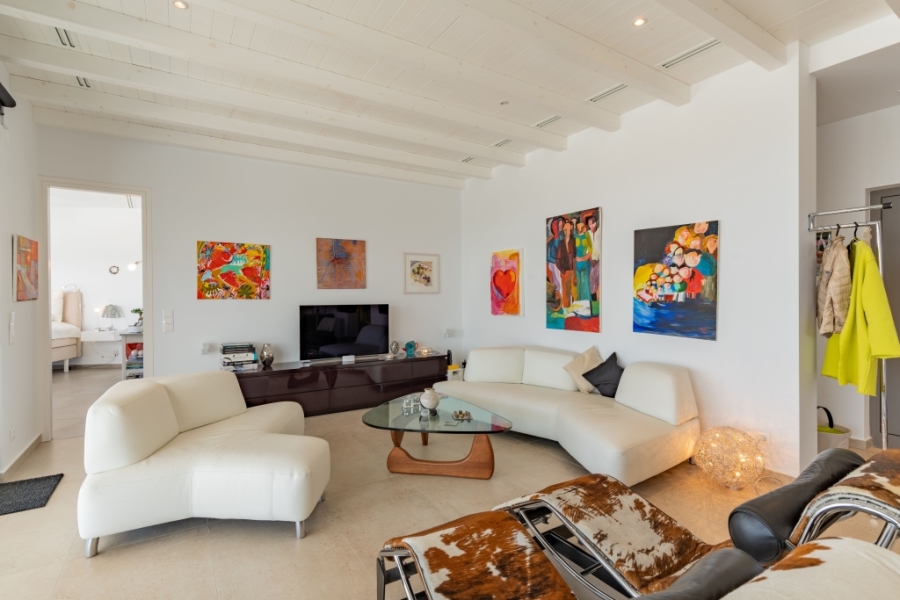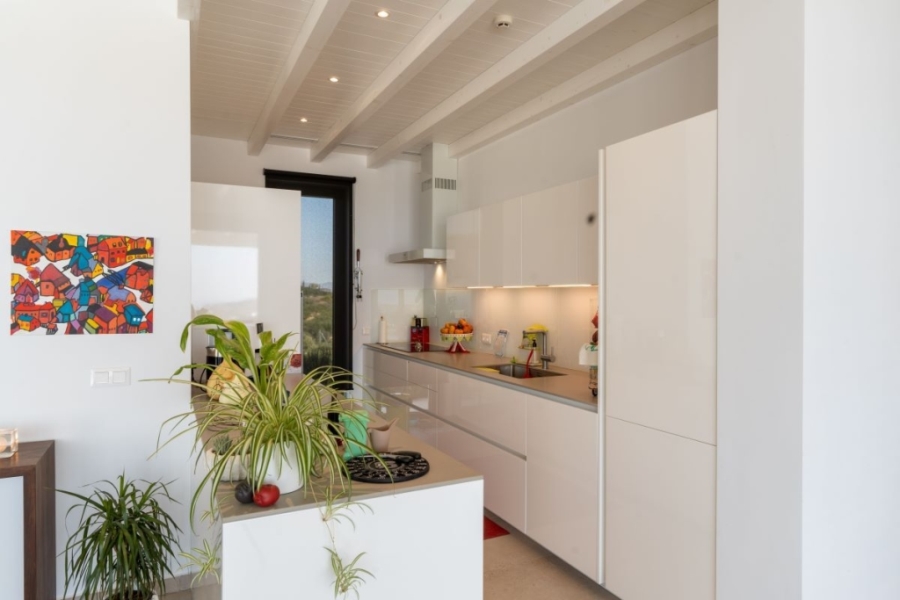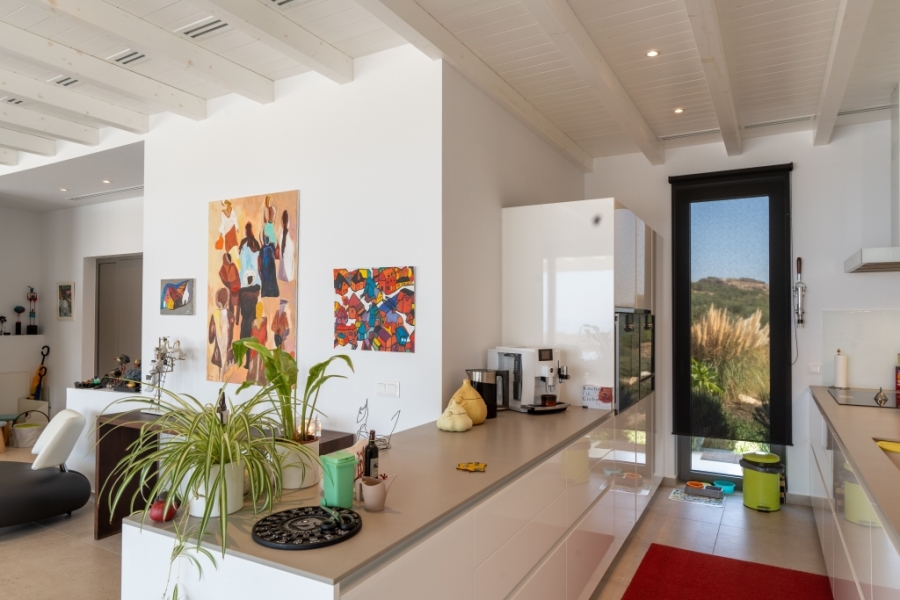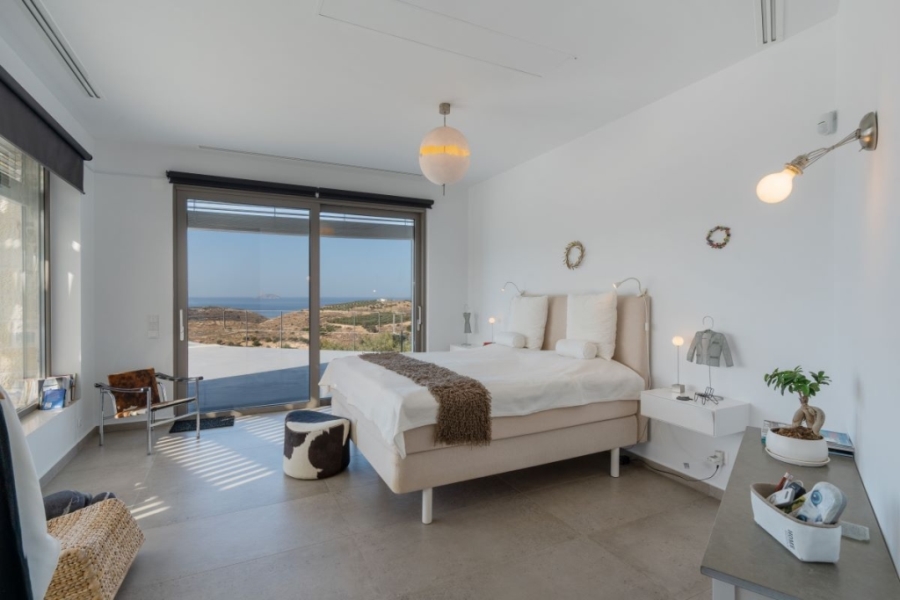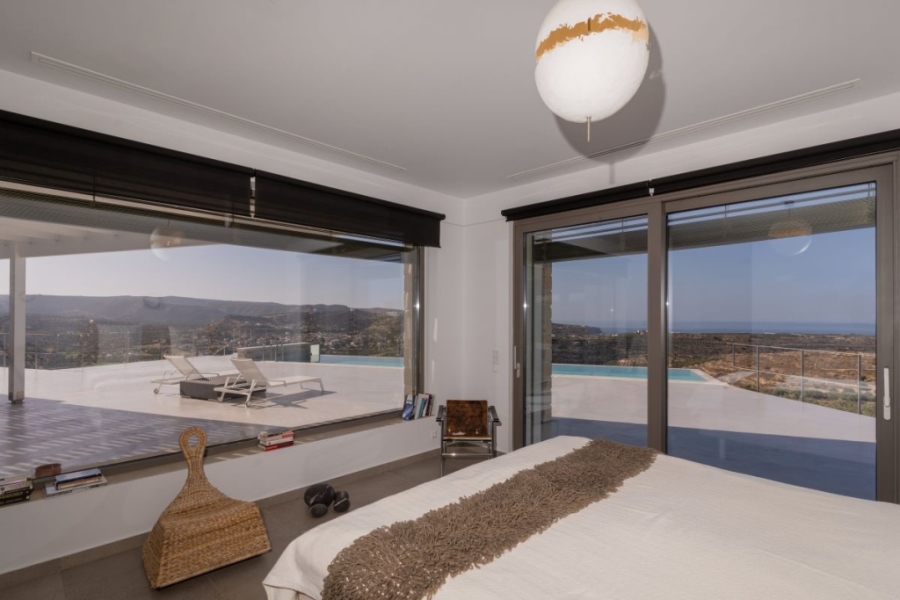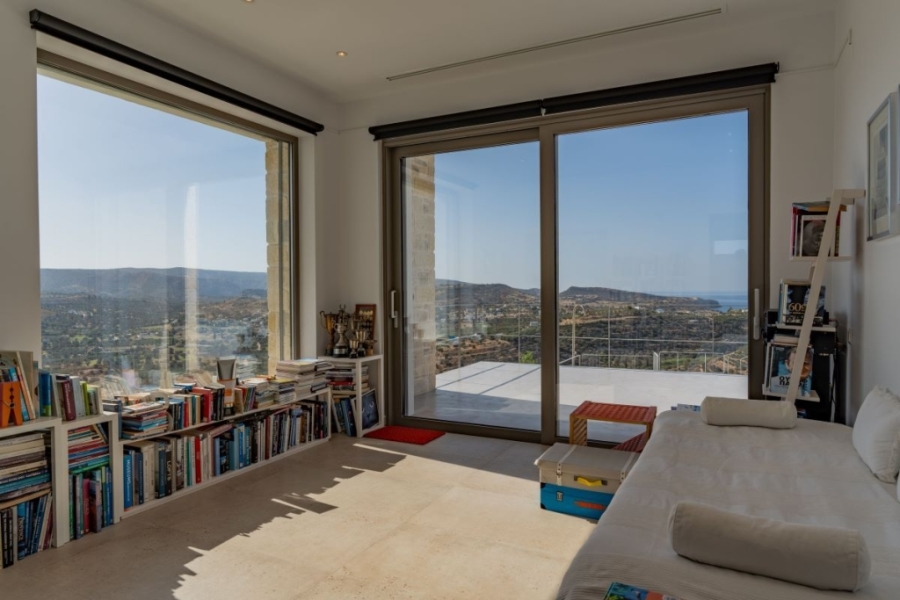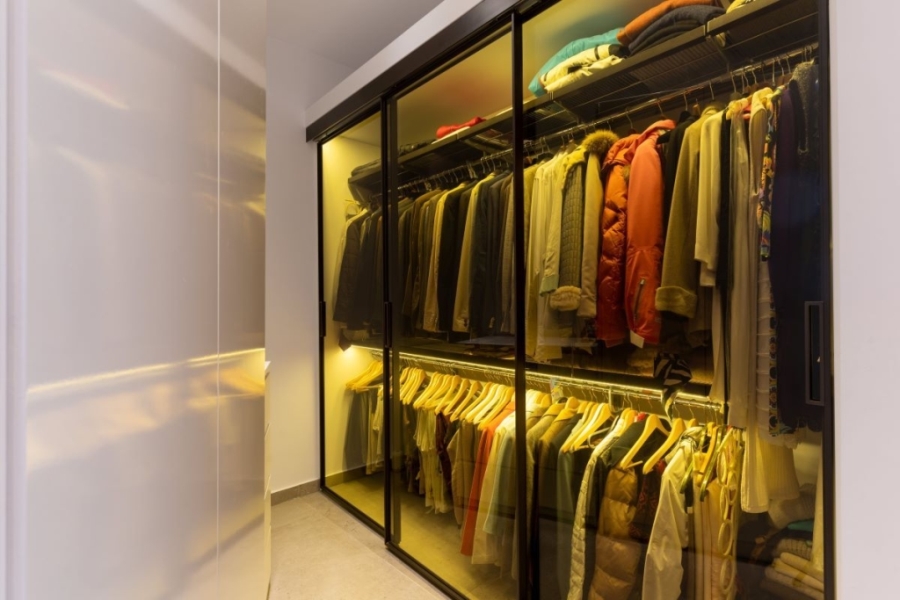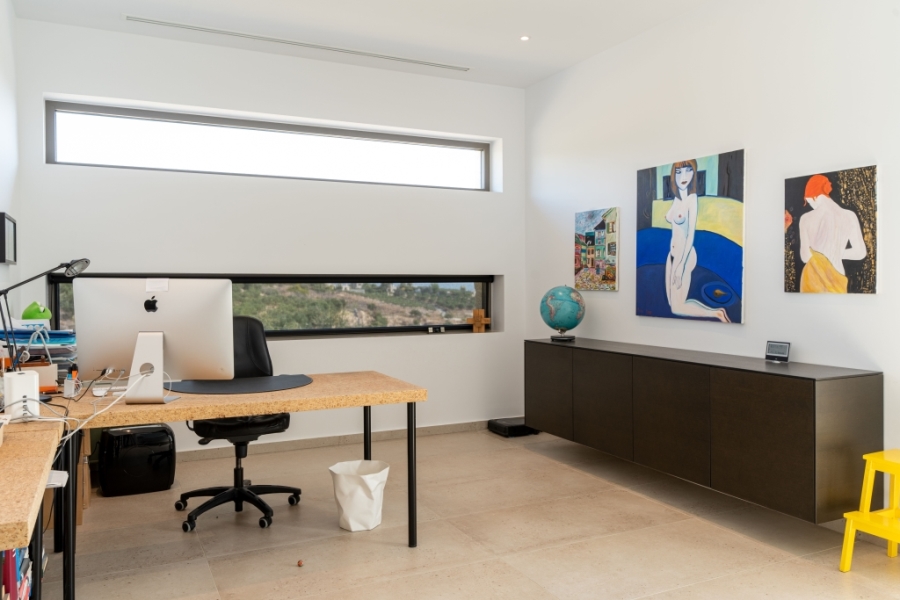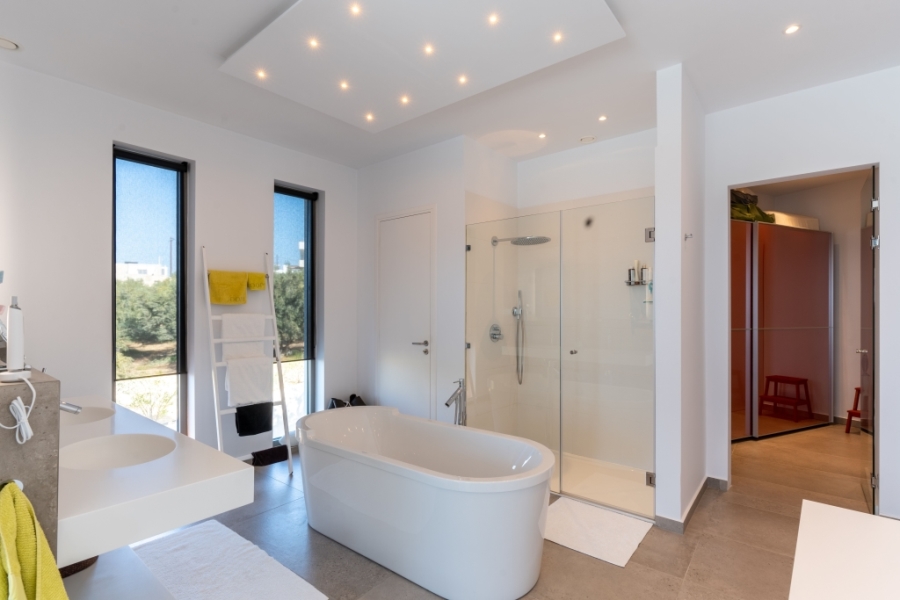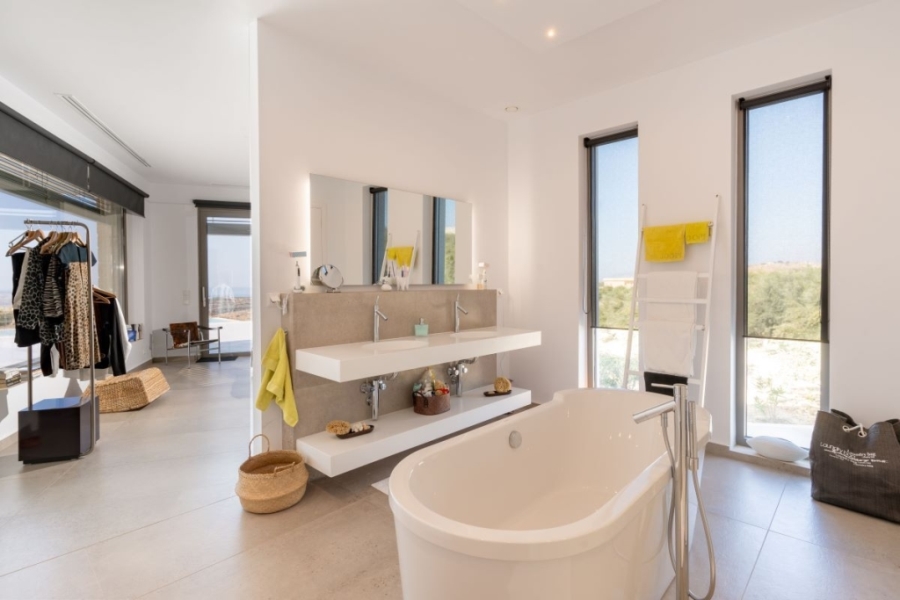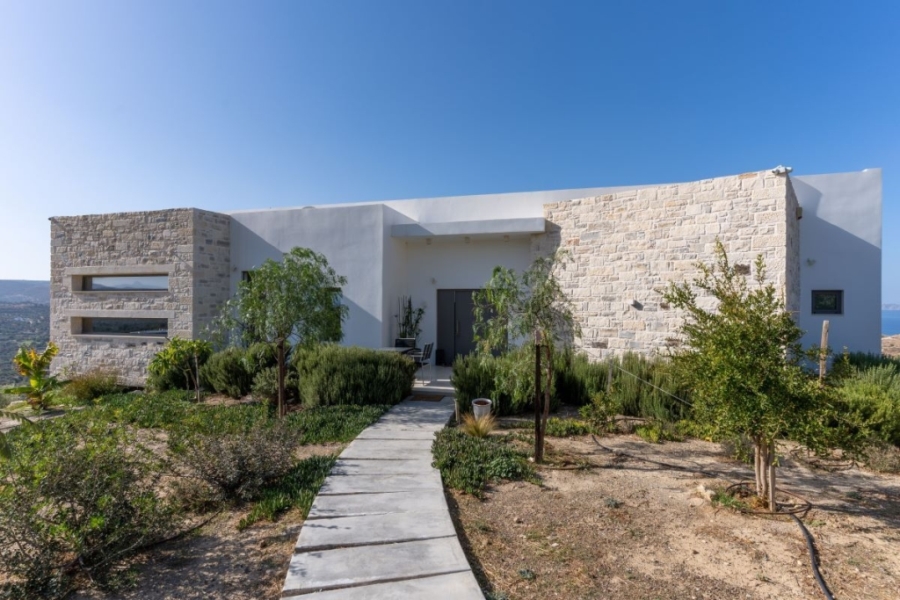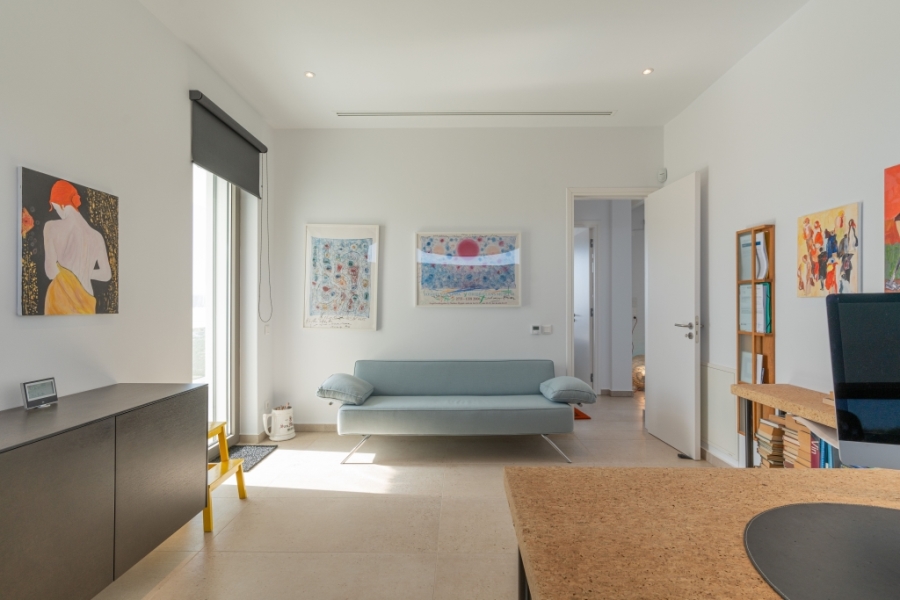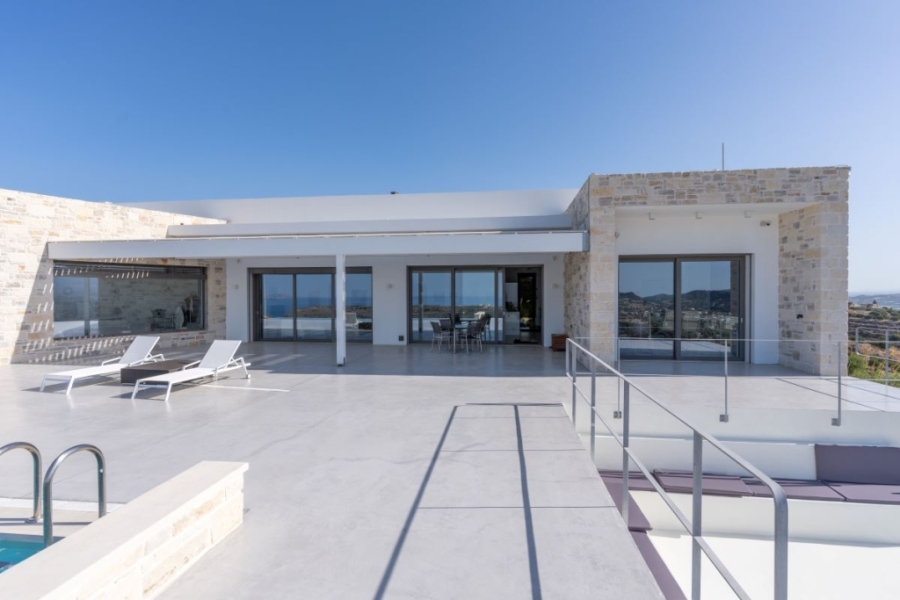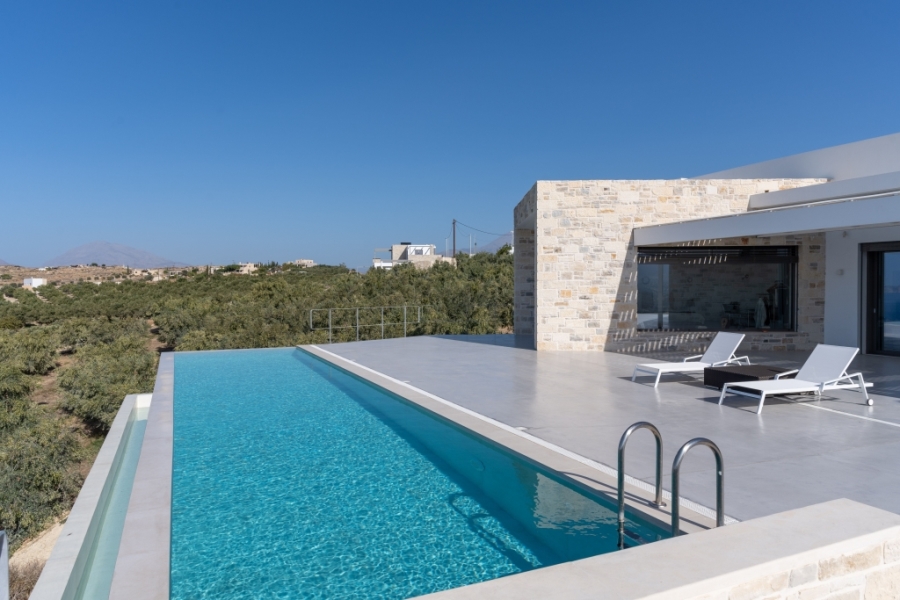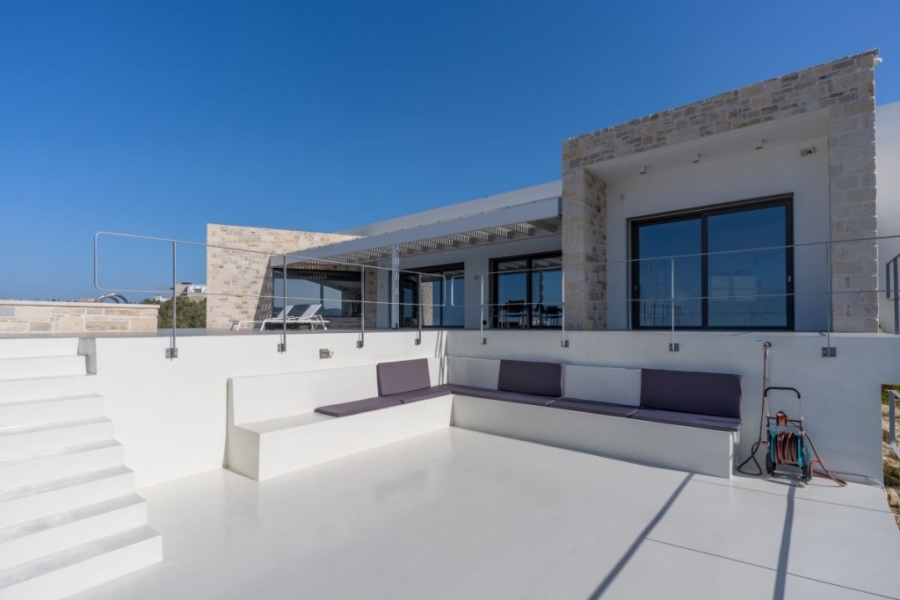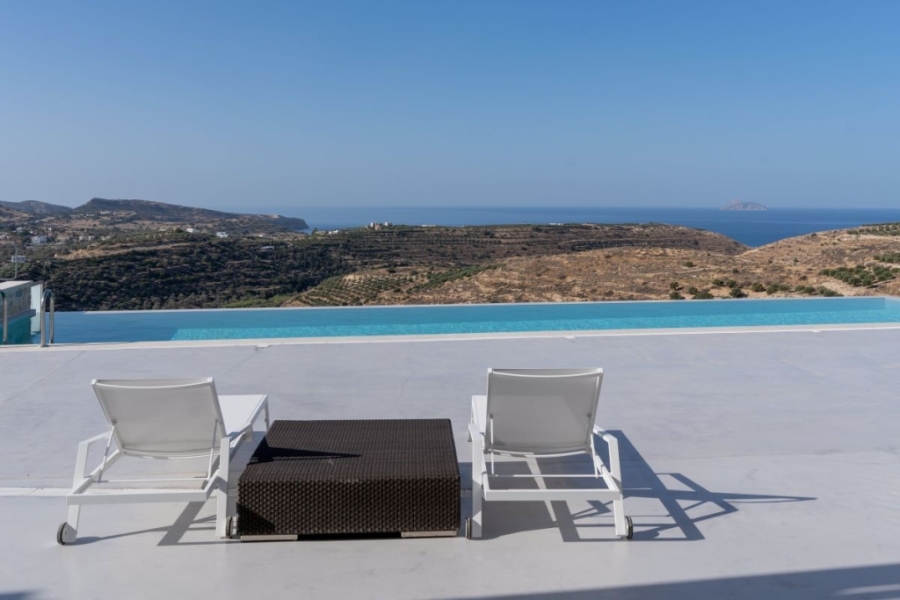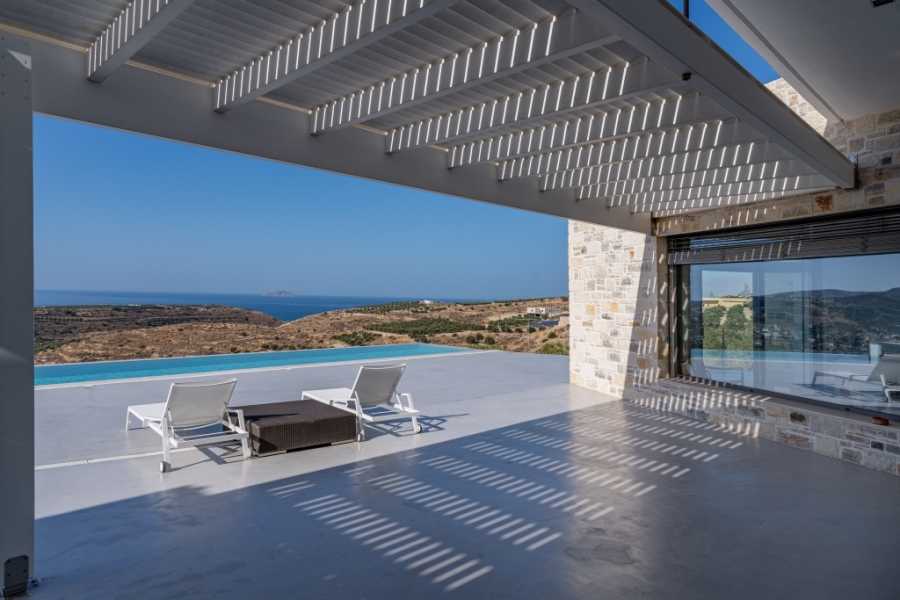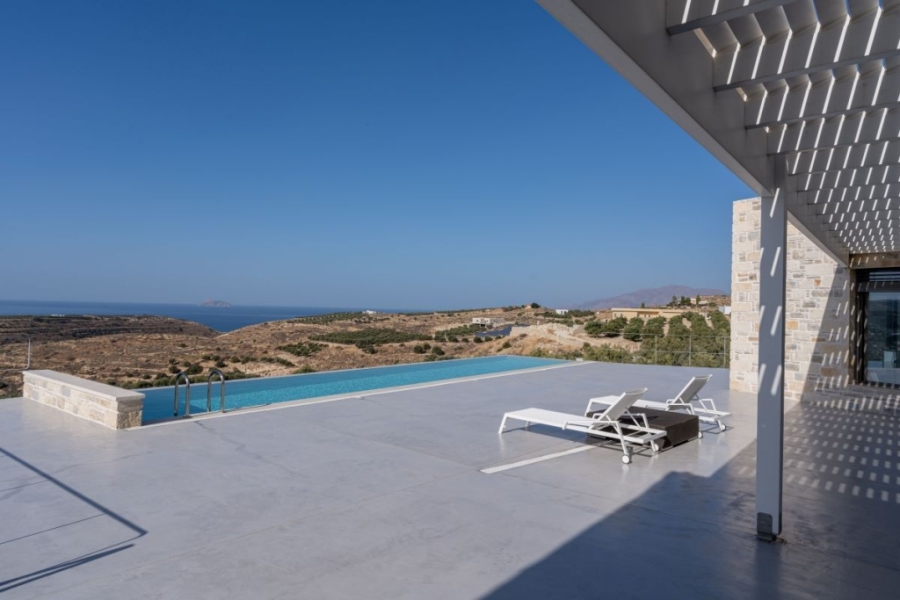 Crete / Tympaki
Fabulous luxury villa in Kamilari
VR710
General information
Bedrooms 3
Bathrooms 2
Size 200
Plot Area 6000
City 54km
Sea 3.5 km
Airport 61 km
Year Build 2019
Description
Welcome to this exquisite villa that offers a harmonious blend of modern luxury and eco-conscious living. Set on a single floor, this spacious residence spans 200 m2 of living space, complemented by a 160 m2 basement/garage. Constructed in 2019, this contemporary marvel showcases a profound commitment to environmental sustainability, featuring a geothermal system, photovoltaic panels, underfloor heating and cooling, a 24-hour automatic ventilation system, a water filter ensuring fresh drinking water from all taps, and a biological wastewater purification system.
As you enter through the front door, you are greeted by a grand dining/living area adorned with a cozy fireplace and expansive sliding glass doors that seamlessly merge indoor and outdoor living. Step out onto the veranda and the swimming pool area.
The fully equipped open plan kitchen boasts top-of-the-line Gaggenau and Miele appliances, ensuring a culinary experience of the highest quality.
On the right of the living area, discover a master bedroom spanning 22.43 m2, accompanied by an opulent en-suite bathroom measuring 17.10 m2, complete with Philippe Starck design products, and an adjacent walk-in closet measuring 11.09 m2.
On the left side, two additional bedrooms await, sharing a well-appointed bathroom also featuring Philip Starck design elements.
Every room in the villa offers panoramic views of the sea and the mountains, thanks to the expansive bay windows that bring the outdoors inside.
The basement houses a laundry room equipped with state-of-the-art Miele washing machine and tumble dryer.
Moving outside, the villa's outdoor area is a haven of tranquility and beauty. A spacious 250 m2 terrace invites you to soak up the sun, while an inviting 42 m2 infinity pool provides the perfect setting for relaxation. Surrounding the villa is an enchanting olive grove boasting 120 olive trees, adding a touch of Mediterranean charm to the landscape.
Additionally, an emergency generator ensures uninterrupted power supply in case of outages.
Situated just outside the village of Kamilari, this property enjoys a privileged location, with a pristine sandy beach and its crystal-clear waters only 3.5 km away. The village of Matala, renowned for its vibrant atmosphere, lies a mere 5.5 km from the villa. Immerse yourself in the colorful shops and charming alleys of Matala and spend a day at the expansive sandy bay with its mesmerizing deep waters. One cannot miss the remarkable man-made caves carved into the rock on a low hill, which emanate a unique hippie ambiance, inviting you to connect with the bohemian side of Crete.
Within a short drive, you will discover numerous archaeological treasures, including the famous Phaistos Palace, the Roman ruins at Gortyna, the sites at Agia Triada and Kommos, and the lesser known but equally remarkable Minoan site at the Kamilari tholos tomb. These historical wonders offer glimpses into the rich tapestry of Crete's past.
Indulge in a luxurious and eco-friendly lifestyle, surrounded by breathtaking natural beauty and the allure of Crete's historical heritage. This villa is a testament to the perfect fusion of contemporary elegance, sustainable living, and the timeless charm of the Mediterranean.
Property features
Energy Classification: A
Air conditioning: Yes
Solar system: Yes
Fireplace: Yes
Parking: Yes
Contact Us
Our Location
Arkadiou 1 74131
Rethymno Crete, Greece
Email Address
post@kretaeiendom.com