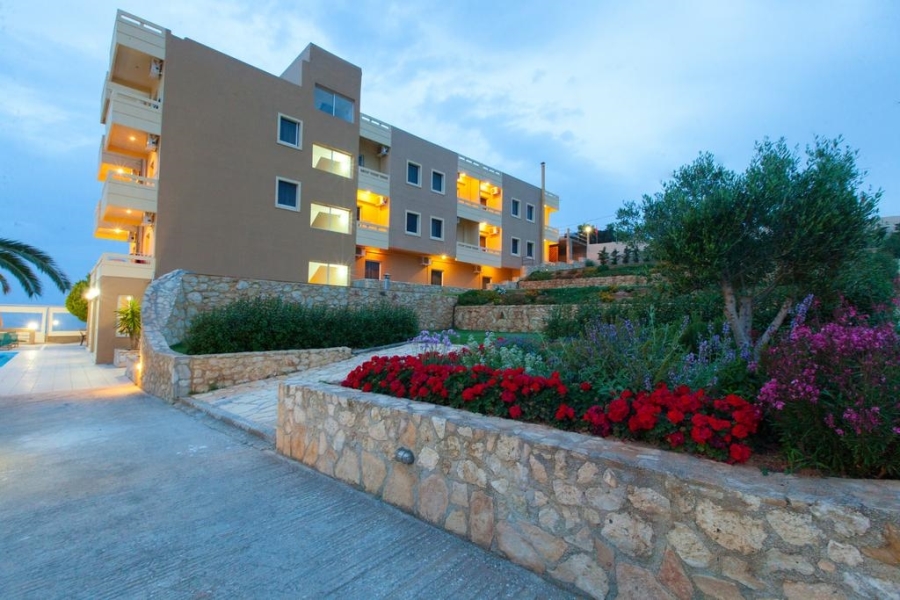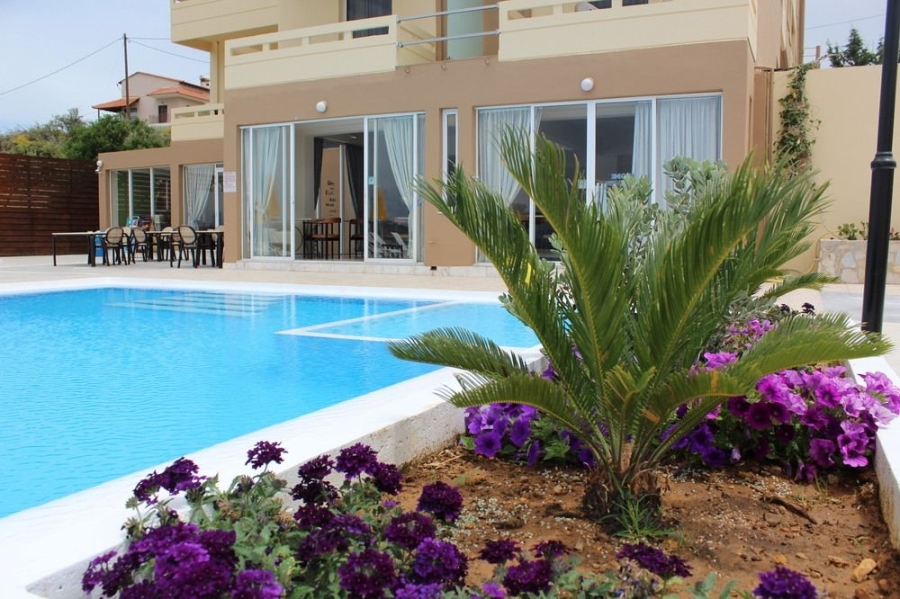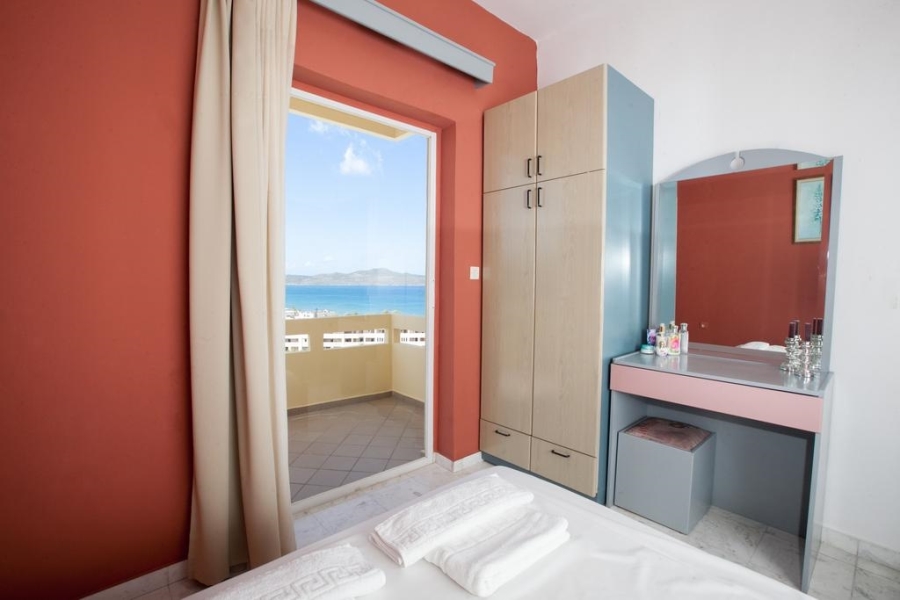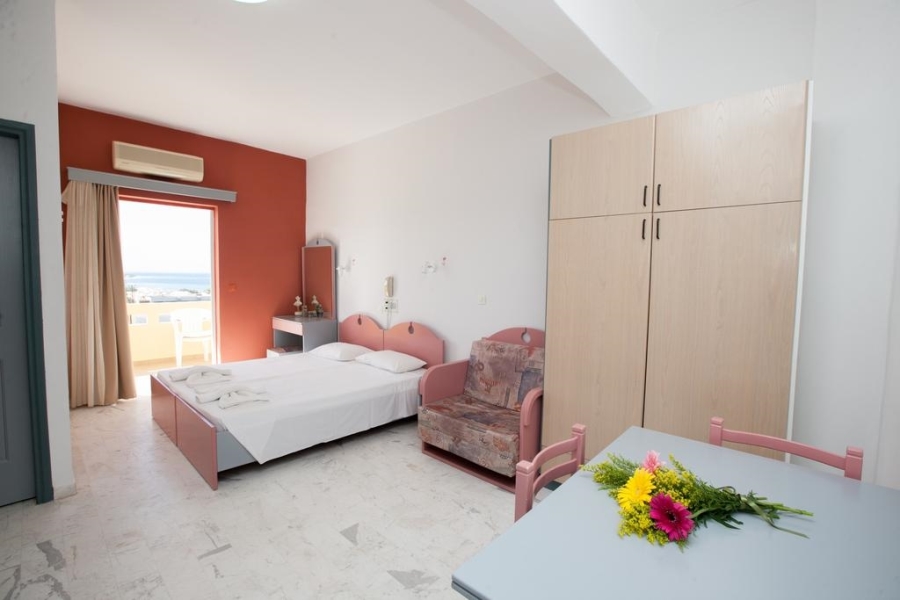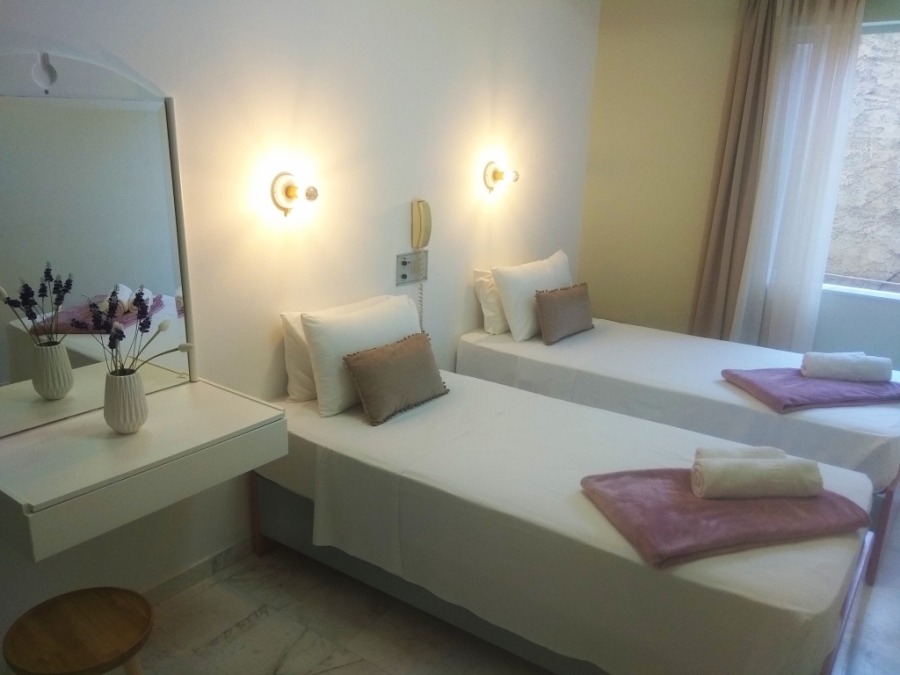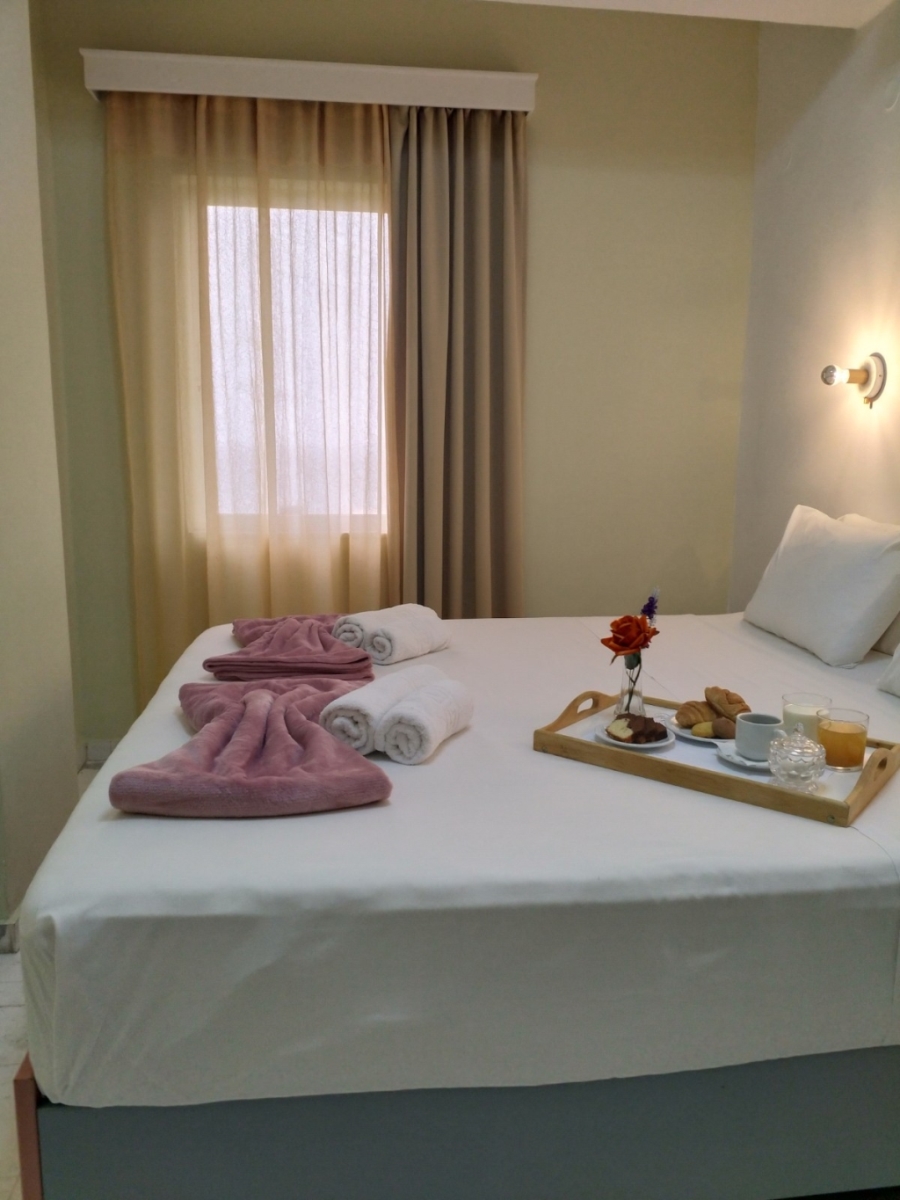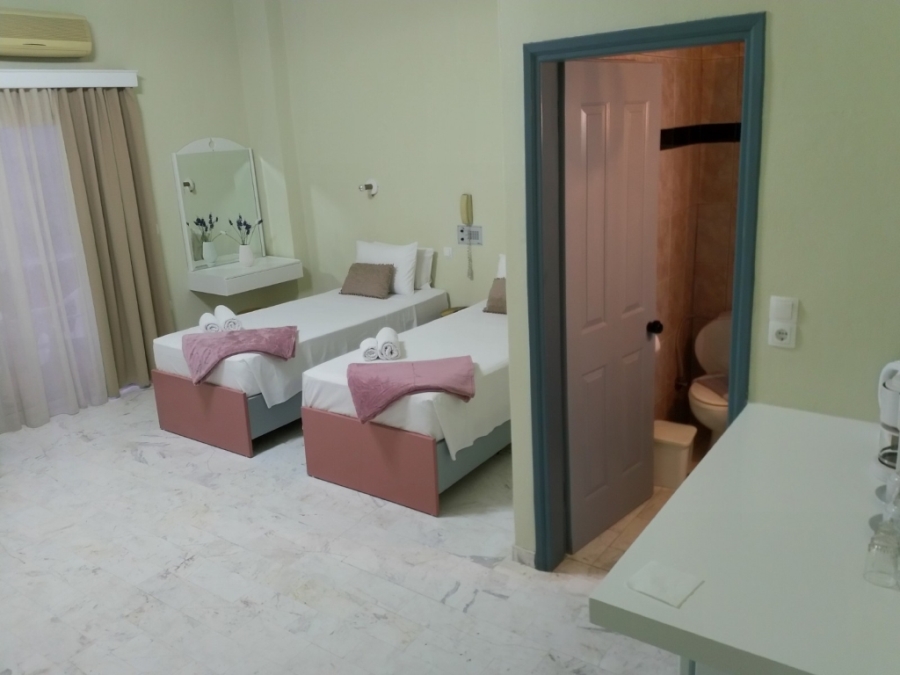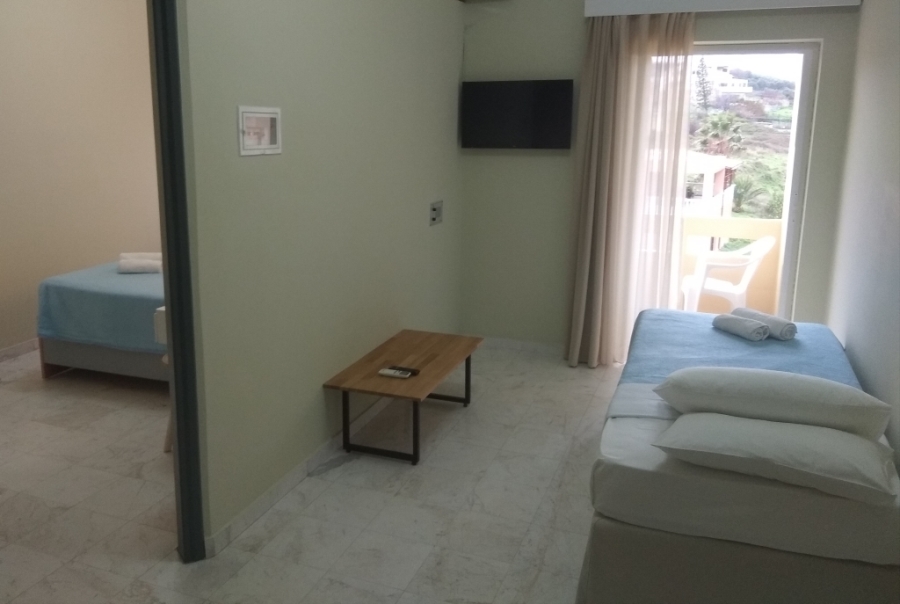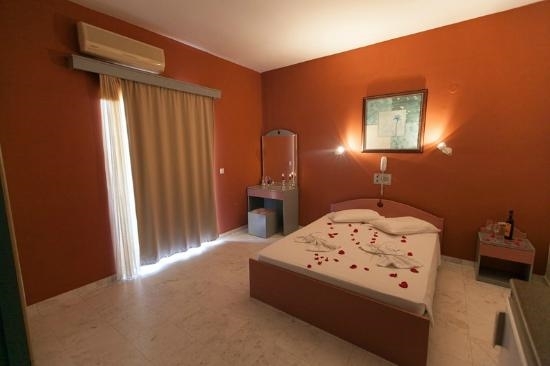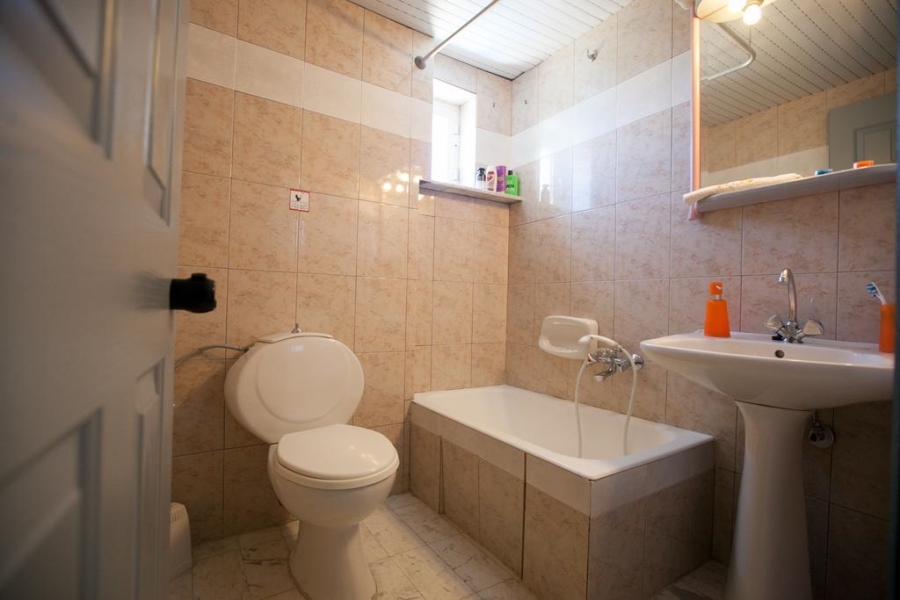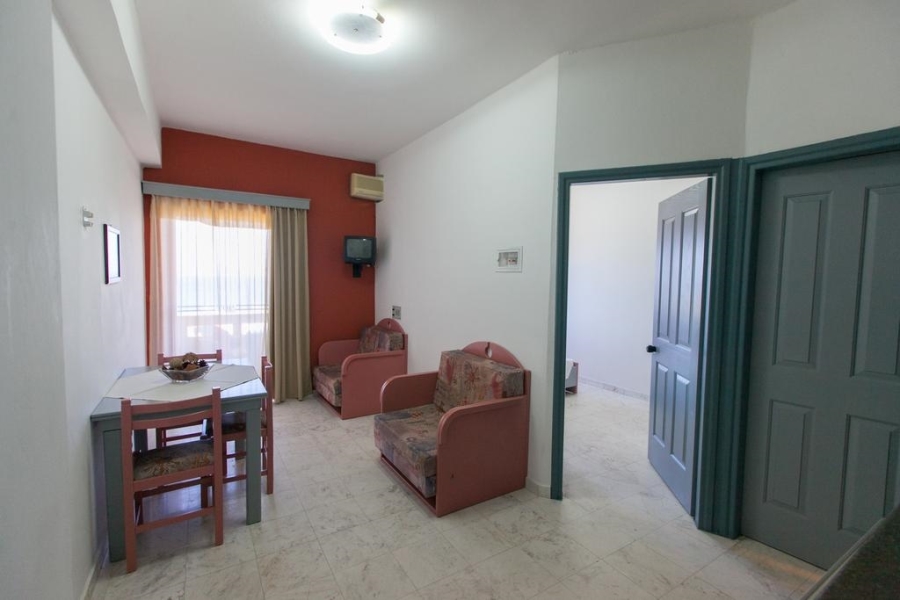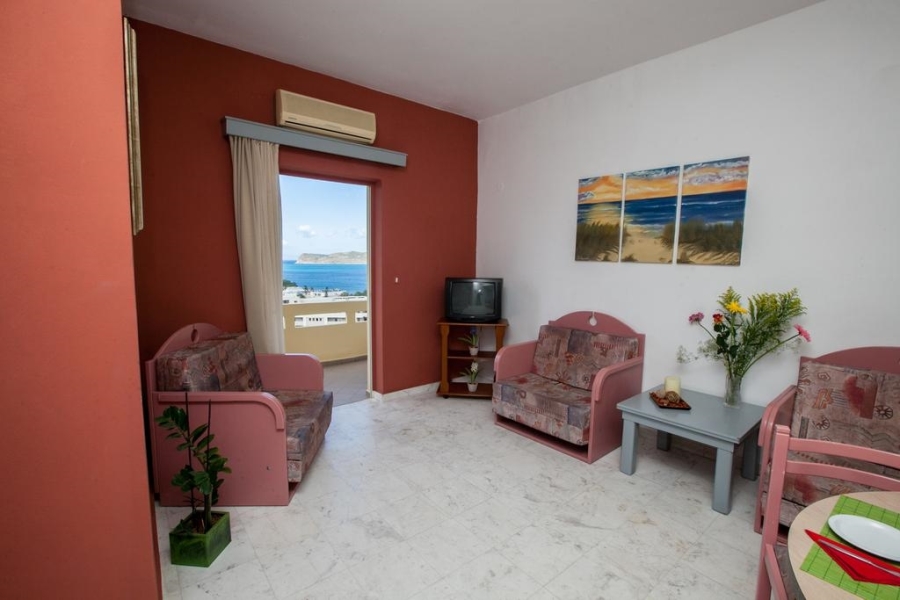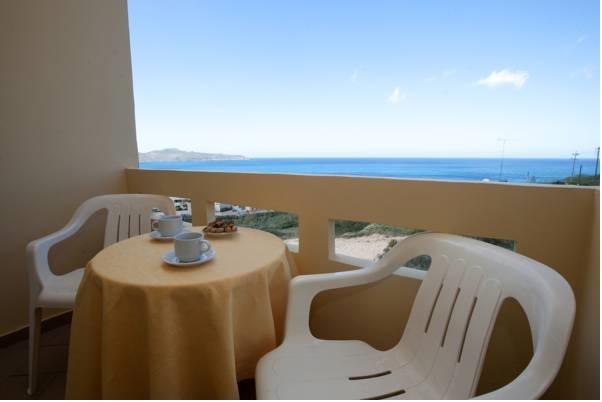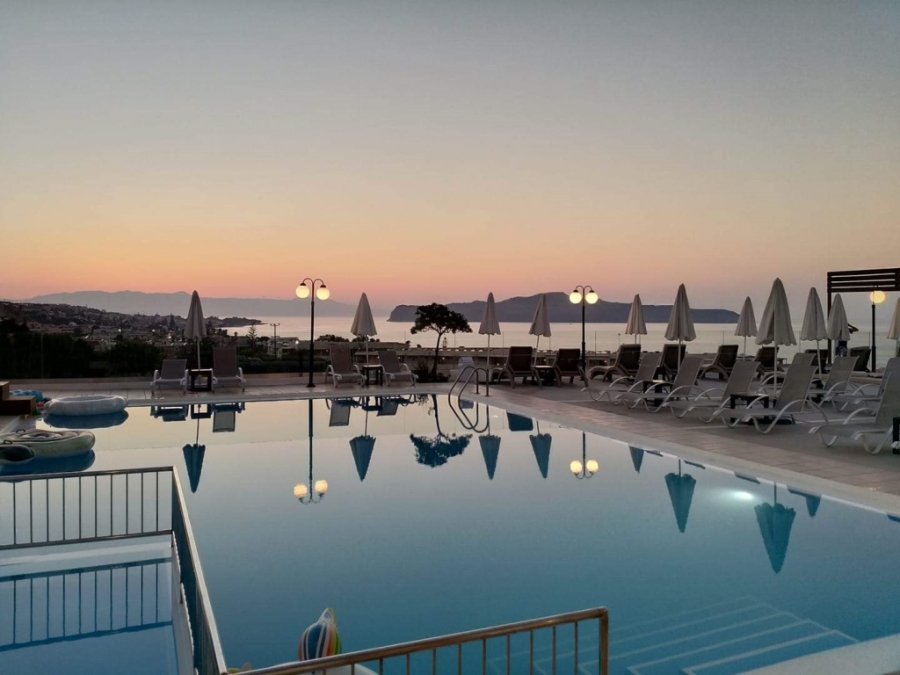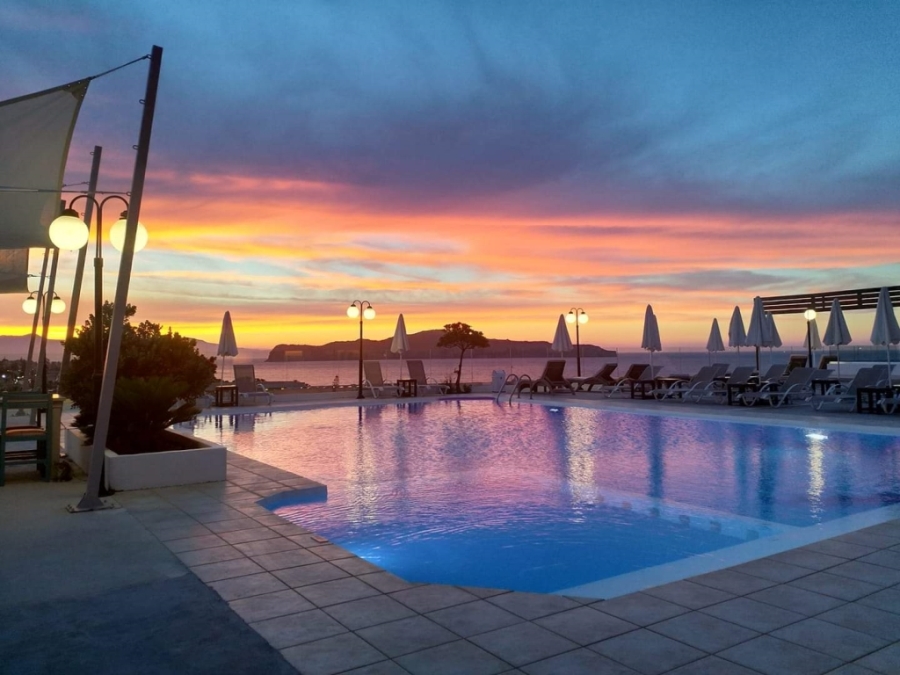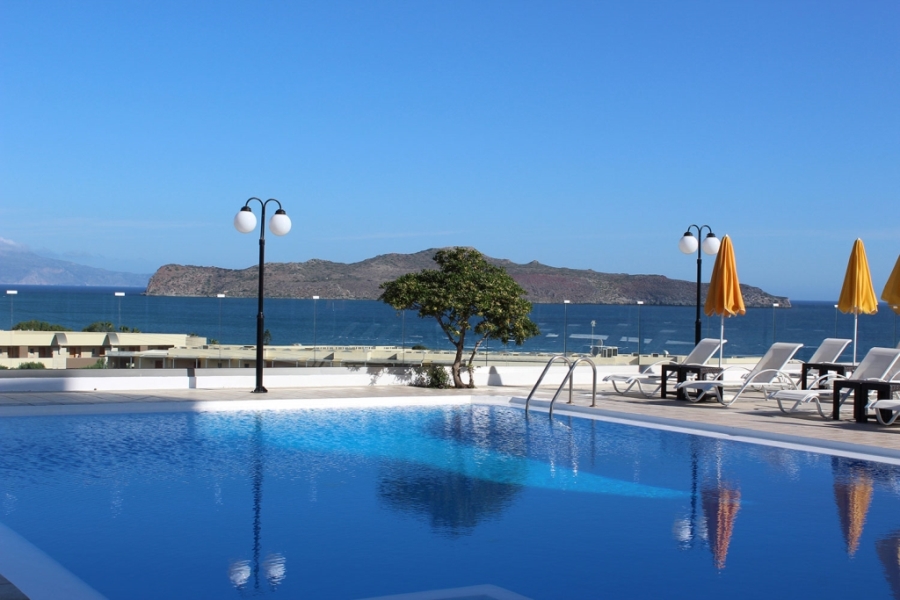 Crete / Chania
Hotel with panoramic sea views in Stalos-Chania
IC611
General information
Bedrooms 30
Bathrooms 30
Size 3300
City 7km
Sea 0.2 km
Airport 22 km
Year Build 1994
Description
A 1.500 m2 hotel in a 3.300 m2 plot, built on a hill, with amazing panoramic views, located only 200 meters of the well-organized beach of Stalos and 7 km from the center of the beautiful town of Chania.
The hotel consists of 30 fully equipped suites, which are divided in three types, either panoramic sea or garden/mountain view, spread over 3 floors.
The first floor consists of 6 one-space suites (up to 3 persons – 25m2), 4 two-space suites (up to 3 persons – 35 m2) and 2 storage rooms. The small one is used for the maintenance equipment, the bigger one as a linen room.
The second floor is comprised of 1 three-space suite (up to 6 persons – 50 m2), 1 one-space suite (up to 2 persons – 25 m2) and 8 two-space suites (up to 3 persons – 35 m2)
The third floor includes 1 three-space suite (up to 6 persons – 50m2), 1 one-space suite (up to 2 persons – 25m2) and 8 two-space suites (up to 3 persons – 35 m2).
The building has also a lift that assists all floors, from the top roof to the basement. The basement consists of an indoor garage and the pool machineries. The top roof can be used as a roof garden, where a swimming pool can be installed.
All the suites are fully equipped with beds, mattresses and pillows, softer mattresses, linen, bedside tables, wardrobe, dressing table, mini-bar, safety box, tv, telephone, air-conditioning, bathroom with bath tub or shower.
The ground floor consists of a fully equipped and organized reception desk, a furnished lobby area with satellite TV, WC, the elevator machinery room, a fully equipped and organized management office, camera security system, a fully equipped kitchen (all kind of cutleries, plates, pots, pans, fridges, freezers, auxiliary benches, frying pots, electric ham cutter, electrical over and gas kitchen stoves, grill and a storage for dry food).
The all building is fully equipped with fire system, cable smoke alarms and fire extinguishers.
The common outdoor area is comprised of a pool bar with tables, chairs and tall bar stools. It is fully equipped with an expresso machine, a breakfast coffee machine, a juice machine, fridges, juices mixer, multi mixer, electric coffee cutter, ice cube freezer, ice cream freezer, shelves and cupboards, bain-marie, cutting board. Beside the pool bar, there is a small garden with grass which hosts a small playground and a wooden hammock. There is also a large 3-level garden landscaped with trees and flowers.
The pool area includes a 70 m2 swimming pool with a separate kids' pool, sunbeds, umbrellas, side tables and hot and cold shower columns.
Next to the building, there is a 960 m2 piece of land, which is not buildable, but can be used at different purposes as space of entertainments.
The property is very well maintained and renovated every year.
Stalos, along the coastal side of Chania is among the most popular resorts of the northern side of the department. The long sandy beach is well-known for its crystal-clear water.
Property features
Energy Classification: udp
Air conditioning: Yes
Garden: Yes
Balcony: Yes
Pool: Yes
Furnished: Yes
Contact Us
Our Location
Arkadiou 1 74131
Rethymno Crete, Greece
Email Address
post@kretaeiendom.com